Alum Spotlight:

Mackenzie Hale
Our Building Futures for Youth alum are working in various trades in the construction industry. Learn more from past alum about their experience with the BFY program, the work placement they completed, and where they are today.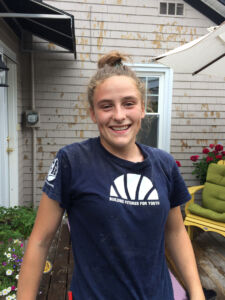 Looking back on my path since participating in the Building Futures for Youth program, I have definitely taken a different route then I expected. I have always had a passion for the trades but my love for sport will not last forever, which is why I took the university route so I could play varsity rugby – I'm currently pursuing a Bachelor of Arts at the University of Prince Edward Island. I am still very interested in the trades and worked for another summer with I love renovations after I completed the program.  
This past summer I had a great opportunity to be hired on with Wacky's Floor Design Centre as a kitchen installer. They are a great company and are working with my school schedule so I can continue to work with them, possibly long term.  
With all that said, although I did take the university route, I am using it as an opportunity to one day potentially run my own company. I will always have a passion for the trades and somehow always find myself back in the environment without knowing.  
The BFY program helped me find my true passion. It opened up many opportunities, helped me build the skills I have today, and made me think about my future and opened many opportunities that wouldn't have been possible without it. It gave me my first job, allowing me to get a good understanding of what it's like to work hard. Without the BFY program, I would have never of found my passion for carpentry/building, nor would I have the awesome job that I love going to everyday. 
"The Building Futures for Youth program

helped me find my true passion. It opened up many opportunities, helped me build the skills I have today, and made me think about my future and

opened

many opportunities that wouldn't have been possible without it.

"