Alum Spotlight:

Morgan

Laffin
Our Building Futures for Youth alum are working in various trades in the construction industry. Learn more from past alumni about their experience with the BFY program, the work placement they completed, and where they are today.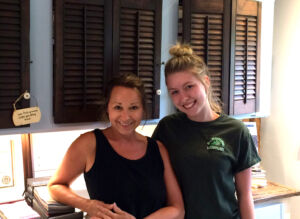 Five years ago, I applied for the Building Futures for Youth program with no idea what I wanted to do as a career in the future. I knew I loved hands on learning and thought this might be something I wanted to keep pursuing. I started my placement in 2017 with Betty Ann Design, a local interior designer. Although her title is an "Interior Designer" she does much, much more. Betty Ann works with clients from start to finish and also and also works very closely with the contractors, carpenters, plumbers, and electricians, gaining plenty of knowledge in all aspects of property management. Working alongside Betty Ann opened my eyes to the amount of opportunities there are in the trade's fields.
After completing the Building Futures for Youth program, I went on to study Business Administration at Acadia University, where I am currently in my third year of studies. My goal after university is to become a teacher that instills the knowledge of finances, taxes, budgeting and mortgages, but most importantly the importance of trades and the success that can come from finding a career within them.
By completing the Building Futures for Youth Program I have been able to stay in contact with many local business owners, tradesmen and most importantly the woman that started my vision – Betty Ann. Having Betty Ann as a reference has also been very important as working with her for four years, she is the best person to explain my work ethic to any other employers. I can't imagine where I would be without this program and the support that I received throughout my learning. I would recommend anyone to at least try out the trades so they can see if it may align with their future and they may just fall in love with their job!
"I can't imagine where I would be without the Building Futures for Youth program and the support that I received throughout my learning."